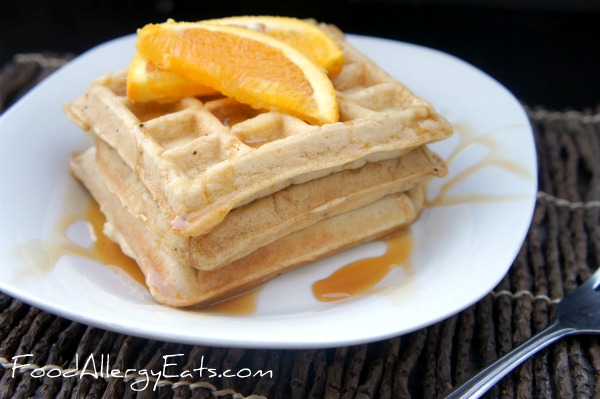 One thing I love to make and experiment with is waffles, they are so simple plus most kids and adults love them!
This past week, I thought I would get a little creative and add some orange and cinnamon that I had on hand to make these waffles.  They were delightful topped with your favorite syrup!
The first time I made these I added xanthum gum to the recipe on top of the gluten free flour, I quickly learned that was a bad idea.  The waffles tasted great, but xanthum gum holds ingredients together so it was extremely tough to cut through the waffles.  If you are making these with your own flour mix then you would likely need the xanthum gum.  I used King Arthur All Purpose flour and the xanthum gum is already in the flour.
Let's get to this recipe!
Ingredients:
1 2/3 Cup Rice Milk
1/2 Cup Applesauce
2 Tbsp Orange Juice
1 Tbsp Orange Zest (Zest from 1 large orange)
2 Cups Gluten Free Safe Flour
2 Tbsp Brown Sugar
1 Tbsp Baking Powder
1/2 Tsp Ground Cinnamon
1/2 Tsp Ground Ginger
Fresh Squeezed Orange (Optional)
Directions:
Start by preheating the waffle iron. Next, combine all the ingredients in a large stand mixer or large bowl. I squeezed the juice from 1/4 of an orange in the mix as well, this is optional. Continue mixing the ingredients until they are formed into a smooth consistency.
Continue making these by pouring a small amount of the mixture onto the heated, greased waffle iron and cook until brown according to the instructions with your waffle iron.
This made 6 Belgian style waffles.
Copyright © Food Allergy Eats
As always be sure to check all ingredients and eat what is safe for you and your family!  Enjoy!