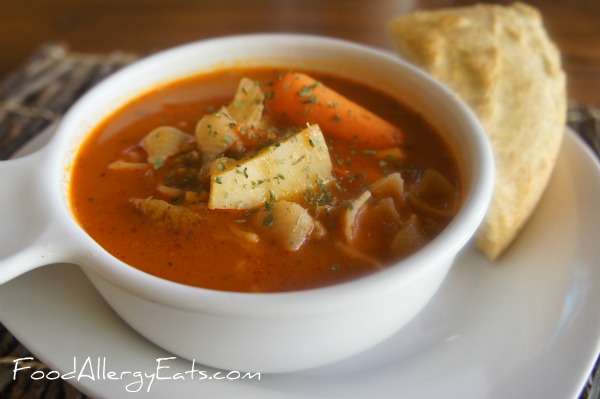 Growing up my grandma made the best vegetable soup, she would make large amounts of it then bring it over for us for dinner.  She always made cornbread to go with it.  Luckily, she lived around the block from us so it was a quick walk or drive around to our house to drop it off, so we had it often!
Once, I started cooking, I knew I had to find a way to remake this soup.  I think one of the main ingredients that make it taste the way I like is the white cooking wine that she used in it.  It gives it a refreshing taste.
For the cornbread try this Allergy Free Cornbread Recipe, assuming you are not allergic to corn of course.
Ingredients:
1 Lb Ground Beef, Cooked and Drained
1 14.5oz Can of Beef Broth
4 Cups Water
1 15oz Can of Tomato Sauce
1 Cup Frozen Corn
4 Potatoes, Cubed
1/2 Lb Baby Carrots
1 Diced Tomato or 1 Can of Diced Tomatoes
1/2 White Onion, Sliced
1/2 Cup White cooking Wine
1 Tbsp Parsley
1 Cup Safe Pasta Noodles (For only Gluten Free, I use Tinkyada Pasta.)
Directions:
In a large stock pot on medium heat, add in all ingredients except the pasta noodles.
Let this come to a rolling boil then lower the heat and let simmer for 25-30 minutes or until the veggies are soft.
Add in the noodles in the last 5-10 minutes of cooking time.
Serve with a side of cornbread and a sprinkle of parsley. It's always nice to use fresh parsley too!
Copyright © Food Allergy Eats
As always remember to eat what is safe for you and your family, checking all ingredients first.