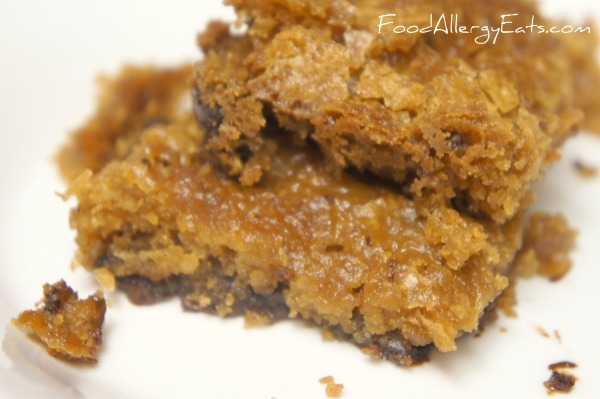 One of my favorite products to bake with is Enjoy Life Chocolate Mega Chunks, or that is if they make it to the baked goods!  I could also eat the bag of them plain, no baking required!
I had every intention of simply reviewing this recipe and link to it but then I ran into the issue of not being able to find it on the website.  I used the recipe on the back of the Mega Chunks because it just looked delicious!
I did adapt it just a bit, but for the most part kept the same structure of the recipe.  I will say with blondies the baking time is what is hard for me, generally most recipes say bake for 20-25 minutes but you have to get that center portion set correctly.  These did come out a little more gooey than I would like, but the taste made up for that, they were delicious.  Seriously I just needed a fork and a pan!
Enjoy Life Decadent Blondies
Ingredients:
1 Cup + 1 Tbsp Gluten Free All Purpose Flour
1/4 Tsp Xanthum Gum
1/2 Tsp Baking Soda
1/4 Tsp Gluten Free Baking Powder
1/2 Tsp Salt
1/3 Cup Grapeseed Oil
1 Cup Packed Brown Sugar
1 Tbsp Vanilla Extract
1 Cup Enjoy Life Semi Sweet Chocolate Mega Chunks
Flax Gel
Note: I left out the flax gel and added 1/3 Cup Warm Water.
Directions:
Preheat to 350*.
In a large mixing bowl add in the gel or water, vanilla extract and oil. Then, add in the brown sugar and mix it well until it is combined.
Next add in the flour, baking soda, baking powder and salt and continue mixing until well combined.
Lastly stir in the chunks.
Pour this into a 9" Square pan that is either sprayed with a non stick spray or lined in parchment. This should bake for 20-25 minutes at 350* until set and golden brown.
Let this cool completely then cut into squares.
Copyright © Food Allergy Eats
I hope you enjoy this chocolate treat, and as always be sure to check all ingredients and eat only what is safe for you and your family!